New Website Release – Blindandscreen.com
Blind and Screen Launches New E-Commerce Website – blindandscreen.com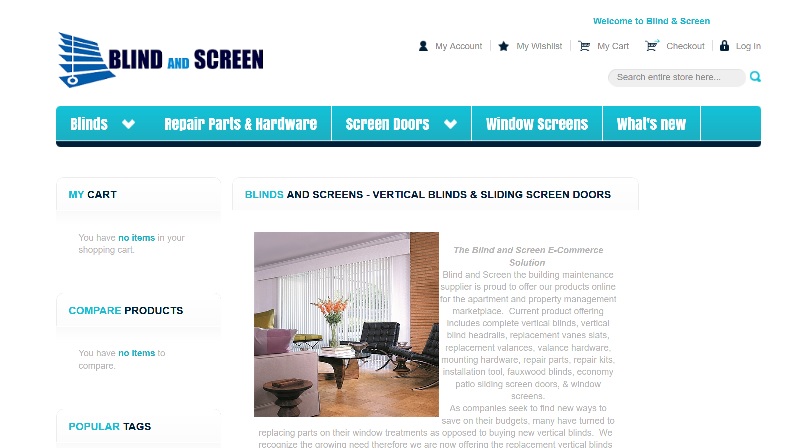 blindandscreen.com website snapshot
LAS VEGAS – Jan. 29, 2016 – PRLog — Los Angeles, CA & Las Vegas, NV, January 29, 2016– Blind and Screen a southwestern window coverings and window screening distribution company (www.blindandscreen.com) announced today that it has officially launched a new website and corporate identity.  According to Steven Tristan, Blind and Screen Director of Operations, the new website and brand are aligned with the company's strategic vision for growth and expansion.
Steven commented "We recognized the need for a wholesale parts program and E-Commerce site to benefit maintenance staff and facility engineers by offering a large variety of blind components at amazing low prices."  It started with the creation of the new vertical blind parts catalog which offers a selection of vertical blind headrails, mounting hardware, repair parts, replacement vanes, valances, valance hardware, vanes saver, repair kits, top notch punch tools, wands, and more.   The entire parts catalog is available to order directly on the companies E-Commerce site.
The company's foundation seeded in installation, repair, & manufacturing offers a special and unique service to apartment buildings & property management companies, by offering hard to find blind parts and screening products at an amazing wholesale rate.
The Blind and Screen E-Commerce Solution
If you would like more information about this topic, please contact Steven Tristan at 800-341-9054 or email at website@blindandscreen.com.